REGISTRATION
Fees are exclusive of 21% Dutch VAT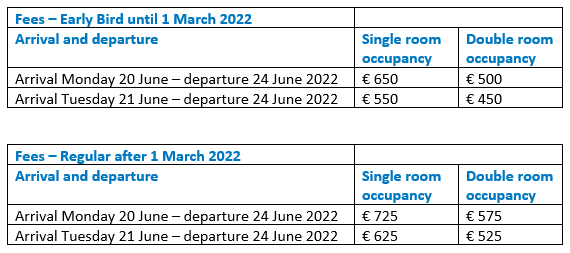 The registration fee includes:
– Hotel room
– Admission to all scientific sessions
– Breakfast/coffee breaks/lunch (including coffee/tea) from Tuesday till Friday
– Dinner on Tuesday (including sodas/wine/beer)
– Dinner on Wednesday (including sodas/wine/beer)
– Closing dinner and party evening on Thursday (including sodas/wine/beer)
– Lunch on Friday

Not included
– Drinks ordered at the bar outside the programme in the evening.
How to register
In order to register for the symposium, please register online and be sure to submit your registration. Upon receipt of your completed registration form, you will receive an email confirmation of your registration. Registration is valid on receipt of payment. Payments can be made by iDEAL or by credit card payment. All payments should be made in Euros (€) and are include of 21% Dutch VAT. Personal cheques and foreign currency are not accepted.
Cancellations and refunds
Should the venue or speakers change, for any reason outside the organisers' control, or the congress be cancelled, the organisers will endeavour to re-schedule, but shall not be held responsible for any costs, damages or expenses incurred by registrants
Please notify the symposium secretariat by e-mail in case of cancellation or if you wish to transfer your registration to another person.
Cancellations received by 1 March 2022 will be fully refunded, minus a € 50,00 administration fee;
Cancellations received after 1 March but by 20 May 2022 will be refunded 50% of the registration fee, minus a € 50,00 administration fee;
No refund will be given for cancellations received after 20 May 2022 or for registered participants who fail to attend;
No refunds will be made in case of cancelled sessions or program changes.
The appropriate refunds will be made after the AVRD 2022. Exchange rates differences and bank charges will be deducted.
Invitation Letter
Do you require a letter of invitation? If so, please send an e-mail to the symposiums secretariat giving the following information: the address of the embassy (consulate) where you will be applying for a visa, along with your first name, last name, address, date of birth, nationality, passport number, date of passport issue and passport expiry date.